QuickBooks®
Why Quickbooks?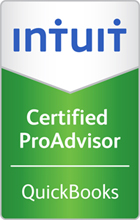 7 Reasons Why You Should Use QuickBooks
QuickBooks is the ideal business accounting software for small to mid-sized business owners. Here's 7 reasons why you should be using QuickBooks.
You save time on bookkeeping and paperwork because many of simple bookkeeping tasks are handled automatically making it easier to run your business.

You can easily generate the reports with the information you need, so you always

know where your business stands. You instantly know whether you're making money and whether your business is healthy.

You save money because QuickBooks is so affordable. You can use it to run a $5 million or a $25 million business for a few hundred bucks. PC accounting software is truly one of the great bargains in business.

Your business can grow with QuickBooks. QuickBooks will help you design a business plan to use when trying to secure a small business loan or line of credit or to plan for the future. QuickBooks will create a projected balance sheet, profit and loss statement and statement of cash flows in the format recommended by the U.S. Small Business Administration.

You can customize QuickBooks to work the way you want. QuickBooks is specifically designed to be flexible and adaptable to a wide range of small businesses. To broaden its appeal, QuickBooks has recently added customized accounting packages for Contractors, Retailers, Health Care Professionals, and Non-Profit organizations.

You can rest assured knowing that QuickBooks is a stable, reliable and proven product. Hundreds of thousands of small businesses throughout the world have chosen QuickBooks as their accounting software. You can't go wrong with a software program with such an extensive installed user base.

You save typing time and errors by sharing data between QuickBooks and over 100 business applications. You can even share data with popular programs, such as Microsoft Excel, Word, and Outlook

QuickBooks® Setup
We save you time, money and aggravation by installing your QuickBooks correctly the first time. The initial setup and installation must be done correctly in order for future information to be accurate. Before you schedule your installation, our Certified QuickBooks® ProAdvisors will review and analyze your chart of accounts and provide you with an estimate of the time and investment required.
Here's a short list of the services we provide during your QuickBooks setup:
Study and evaluate your software and accounting needs.

Recommend software and hardware requirements.

Install software, design and set up chart of accounts and entire accounting package including payroll, accounts receivable, inventory, accounts payable, etc.

Determination of your QuickBooks starting date

Loading your chart of account and balances as of that starting date

Preparation of a list of the items that you sell to your customers. This list includes services, inventory parts, non-inventory parts, other charges and sales taxes

Entering your outstanding accounts receivable and accounts payable details as of your starting date

Entering your ending statement bank balances and outstanding checks & deposits in transit as of your starting date

Printing a trial balance as of your starting date and comparing it to your trial balance from your old system

Entering your transactions since your starting dates into QuickBooks

Train client or client staff in use of software to meet their accounting, management and tax needs.
QuickBooks® TuneUp
Overhaul your accounting system with a QuickBooks Tune-up
Whether you need to prepare for tax time, a financial review or you just need to clean up some problem areas, you'll be prepared with a QuickBooks Tune-up. A QuickBooks Professional Advisor will help you clean up and organize your bookkeeping system.
Tune-up Topics:
Reviewing your transactions for the year

Cleaning up stray entries

Customizing reports

Balancing general ledger to subsidiary records

Additional personalized training
A QuickBooks Tune-up is a smart and affordable way to get a handle on your books. Accurate records allow you to make educated decisions for your business and will save you money!
QuickBooks® Training
We'll customize training for you and your staff at your office or ours. Learn how to utilize the specific features of this software that meets the individual needs of your business. Learn how to manage expenses, run reports, generate estimates and organize billings. You will have the ability to track financial data at your fingertips.